Man stabs wife over 10 times, leaves her to die
MIRROR
A man stabbed his 22-year-old wife repeatedly at a cemetery in Ashoknagar and left her critically injured there, allegedly because he suspected her fidelity.
Nadeem Pasha is said to have been fighting with his wife Ayesha Bhanu frequently, because of which she had gone off to her parents' house. Pasha had gone to his in-laws' place in Neelasandra on Sunday to get her to come back as they had a six-monthold baby girl, who was being nursed. However, on the way he took her to the cemetery and tried to kill her.
Police said Pasha was knee deep in debts and was evading financiers. The financiers used to come to his house in search of him. Most of the time, his wife would have to interact with them. Soon he started arguing and beating his wife, accusing her of having an affair with the financiers. She left to her parents' house. The accused is said to have refused to allow her to take the their three children, including the six-month-old.
When Ayesha Bhanu was away, the infant, who needed her mother, kept crying, forcing Pasha to go to his in-laws' house on Sunday. He told them he would mend his ways and requested them to send his wife with him.
However, on the way, he took her to the cemetery on Anepalya Main Road, as it was an isolated spot and stabbed her. When the woman started screaming people started gathering. Seeing this, Pasha fled from the spot. The victim's parents came to know of the incident and rushed to the spot and shifted her to the hospital. She is undergoing treatment at the Bowring and Lady Curzon Hospital.
Police said Pasha is an auto driver and could have fallen into debts because of his alcohol addiction and other habits. Ayesha Bhanu's statements have been recorded in the hospital, police said.
The Ashoknagar police have registered a case of attempt to murder under section 307 of the IPC.
Man kills wife after chopping her ears
TIMES NEWS NETWORK
Sidlaghatta (Chikkaballapura): An alcoholic chopped off and pocketed his wife's ears before stabbing her to death and setting the body afire at his farm in Chikkadasenahalli village of Sidlaghatta taluk, Chikkaballapura district, on Monday.
Passersby noticed fire and saw smoke emanating from the farm and alerted Sidlaghatta Rural police, who rushed to the spot and arrested the accused, Adinarayana, 32, an agriculturist.
The accusedconfessed to having killed his wife, Venkatalakshmamma, 29, a homemaker and mother of two schoolgoing boys, suspecting her fidelity. Sidlaghatta rural circle inspector B N Siddaraju, however, said the couple's relatives pooh-poohed the allegation, saying the accused was an alcoholic and wanted to marry again. The couple had been married for 13 years.
According to police, Adinarayana took his wife to his farm around 7am, chopped off her ears and stabbed her to death. He burnt her body using firewood he had stocked. The ears were later recovered from his pockets. Police said it is not clear why he cut off the ears. They suspect he may have done ittothreaten her and later murdered her fearing trouble.
Rapist-killer Psycho Shankar slits throat with shaving blade in prison
TIMES NEWS NETWORK
Bengaluru: Serial rapistkiller Jai Shankar alias Psycho Shankar committed suicide by slitting his throat in his cell at Central Jail in the early hours of Tuesday.
The 38-year-old truck driver had hit the headlines in 2013 when he escaped from the high-security prison and was caught five days later. Paralyzed due to the injuries he suffered while fleeing, he was restricted to a wheelchair and put in solitary confinement.
"Shankar slit his throat with a shaving blade," DCP (southeast) M B Boralingaiah said, adding the razor has since been recovered from his cell. Jail officials said he may have stolen the blade from the prison saloon. A magisterial inquiry is under way. Before the blade was found, officials surmised Shankar had used the sharp edge of a tumbler or plate to slit his throat.
Cops on night duty found Shankar lying in a pool of blood around 2.15am and shifted to him to the prison hospital. "Doctors nursed the wound and stitched it. They advised that Shankar be shifted to Victoria Hospital as he had lost blood and his windpipe had been damaged," a prison official said. "Accordingly, we shifted him to the emergency ward of Victoria Hospital where he died around 5.10am."
Shankar was paralyzed waist down due to worsening of the spinal injuries he had suffered while escaping from jail, officials said. He was an accused in 15 cases of rape, robbery, dacoity and murder — 12 in Tamil Nadu and three in Karnataka. He was convicted in three TN cases of robbery, dacoity and rape and sentenced to 10 years' imprisonment. He was lodged in the Bengaluru prison as trial was under way in three cases in Karnataka.
Muzaffarpur hit-and-run case: Politician mows down 9 children in a drunken stupor
After the arrest, the police shifted Manoj Baitha to Patna Medical College and Hospital from Sri Krishna Medical College and Hospital for treatment of the injuries he suffered during the accident.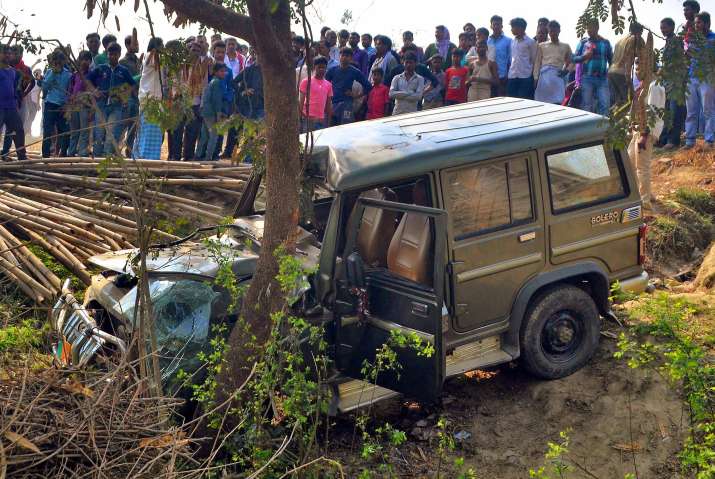 Suspended BJP leader Manoj Baitha, accused of mowing down nine children with his SUV in Muzaffarpur recently, has surrendered before the police, ANI reported.
After the arrest, the police shifted him to Patna Medical College and Hospital from Sri Krishna Medical College and Hospital for treatment of the injuries he suffered during the accident.
 Baitha, a district-level BJP worker from Sitamarhi, was suspended from the saffron party on Monday night for a period of six years after an FIR was lodged against him in connection with the case.
An SUV on Saturday mowed down nine children of Dharampur Middle School while crossing the national highway on their way back home, triggering outrage in the area. The car was owned by Baitha and he was allegedly driving it in a drunken state.
According to police, three people fled the spot after the car knocked down the children, aged between seven and 13 years.
According to the family of the suspended leader, he incurred injuries on face and head. Hence, he is unable to speak. In sign language, Baitha has denied the allegations of driving under the influence of alcohol.
"Manoj has never had liquor in his life," a family member accompanying Baitha said.
Baitha, in sign language, said that he was saddened by the death of nine children, he allegedly hit by his car.
On being questioned about why he fled the scene after the accident, where was he hiding, how did accident take place, Baitha replied he can't answer as he was unable to speak.
Bihar Chief Minister Nitish Kumar had on Sunday expressed concerns over the increasing number of road rage cases in the state and assured "strict action against the guilty".
Following the accident, Union Minister Ravi Shankar Prasad announced the cancellation of Holi celebrations at PNT Community House in Patna planned for March 1
NIGHTMARE ON NAMMA STREET
Dance teacher gets life sentence for raping minor
bangaloreMIRROR
Just 10 months after the police registered a case under Pocso (Protection of Children from Sexual Offences) Act against a 32-year-old dance instructor, he has been convicted and sentenced to life after the court found him guilty of raping a 15-year-old girl he was mentoring at his dance academy.
The Banaswadi police had arrested Christopher Jaswanth Raj, a resident of 13th Main, Indiranagar in April 2017 after one of his students lodged a complaint with them accusing him of rape and sexual assault. He was running a dance academy near HRBR Layout and was also facing similar charges from other women at the institute.
The case was heard at the court hall of City Civil and Sessions Judge, M Latha Kumari who found him guilty and also ordered him to pay Rs 1 lakh as penalty and has awarded a compensation of Rs 3 lakh to the girl. The team headed by police inspector Munikrishna DH had investigated the case.
The girl in her complaint had stated that she used to go to Raj's institute for dance lessons from 5pm to 8:30 pm on school days and spent more time at the institute during holidays. During Christmas vacations, when she was at the institute, Raj had raped her. He also warned vacations, when she was at the institute, Raj had raped her. He also warned her against telling anyone about it.
He raped her at least five more times over the next few months before she approached her family and police for help in April.
She decided to come out after one of her friends at the institute told her that she was planning to file a police complaint against Raj as he had misbehaved with her. She also claimed that Raj was very friendly with her since the beginning and she used to share her academic and family matters with him.
Raj reportedly 'confessed' his feeling for her in September 2017 and continued to exploit her. A couple of days later, Raj reportedly exerted pressure on her to quit regular school and join his dance institute. He also kept insisting her to avoid befriending her peers and also tried to convince her to complete her education through open school.
Banaswadi inspector DH Munikrishna registered the FIR, subjected both of them to medical tests and sent samples to FSL. He ensured that the reports are prepared at the earliest, took statements from other students of the class submitted before the court.
Incidentally, another student, a 23-year-old woman had filed a rape complaint against Raj a couple of days before the minor girl approached the police. Raj had been trying to secure bail in this case and had even gone to the Supreme Court but his bail plea was turned down.
The police claimed that Raj was targeting many students at his institute. He is married and resides with his family at Indiranagar.
Former state public prosecutor S Doreraju said that ensuring minimum delay in completing trial was very crucial and claimed that the same method should be handled in a similar manner. He also added that the time taken for completing the trial was crucial in cases like this as a lot depended on the memory and recollection of the ordeal by the survivor.
"Fast tracking the case always puts the survivor at an advantage as they could describe the crime and identify the accused clearly and accurately," he added.
Another case which saw speedy justice was the Nirbhaya rape, which shocked the nation. Conviction happened within nine months, which was a record of sorts as the Indian judicial system is notorious for dragging such cases on for years.
A recent National Law School of India University (NLSIU) study on the Protection of Children from Sexual Offences Act (Pocso Act) in five states – Karnataka, Maharashtra, Assam, Andhra Pradesh and New Delhi –revealed that in 67 per cent of child rape cases, the survivors are forced to withdraw their complaints due to intimidation and threat from the accused as the trial gets prolonged indefinitely. The study also revealed that the recording of the statement and other procedures essential for ensuring a proper conviction were often botched up.
'Poetic justice' after 11 rape cases
Bed-ridden and 'lonely', rapist Psycho Shankar slits own throat
His escape attempt in September 2013 left him with a fractured spinal cord; and family had abandoned him for his horrible deeds
Serial rapist and dreaded murderer M Jaishankar alias Psycho Shankar, 38, used a steel plate to end his life in the jail premises in the wee hours of Tuesday.
Jaishankar had made one escape attempt from the jail in September 2013, and a jump from the 30-foot compound wall, left him with a fracture to his spinal cord and completely immobile. Since then, he has been using a wheel chair to move around the jail premises and is said to have been in depression due to his disability.
He did not have any visitors and was undergoing treatment for depression in the jail.
"He was alone and was depressed about the disability. On September 1, 2013, he had escaped from the jail and five days later was arrested at Bommanahalli. In his fall, he is said to have fractured his spinal cord and he claims to have reached Bommanahalli by crawling and dragging his body. After his arrest and since then, he has been kept in a separate cell and was facilitated with a wheel chair," said a prison official on the condition of anonymity.
The convict would not speak to anybody and is said to have been living in his own mind. He wouldn't step out of the cell either.
"He was also getting treatment for his depression and was made to meditate and do yoga exercises. He had folded the food plate and sharpened its edges by rubbing it on the floor. He slit his throat around 2.15 am. Jail officials found him writhing in pain and took him to the jail hospital for treatment. Since his condition was critical, he was shifted to the Victoria Hospital within 15 minutes. By around 5.10 am, he succumbed to the injuries," the prison official said.
Jaishankar's crime record is horrifying. According to police records, he was allegedly involved in rape and murder of over 11 women, mainly highway sex workers. In all, he has 15 cases registered against him. His prisoner number was 5483. He has reportedly committed the series of rape in various parts of Tamil Nadu including Krishnagiri, Salem and Erode. He has also reportedly raped and killed women in Chitradurga, Davanagere and Bijapur in Karnataka. He was convicted in three cases of rape and kidnapping. He was serving a jail term of around 32 years.
In October , 2009, the Tamil Nadu police has arrested him for rape and murder of a 39-year-old woman police constable. In March 2011, he had escaped from the police custody on the way back to the jail from a court hearing in Dharmapuri. Police constable Chinnaswamy, who was assigned with escorting the rapist, had committed suicide unable to bear the humiliation after the escape.
Jaishankar was a driver by profession and is married and has three daughters. He started his criminal activities in 2008. He would carry a bag with a machete in it, kidnap sex workers near dhabas and would rape and then murder them. He would also go around farmhouses targeting women. If anybody tried to nab him, he would use the machete to attack them.
"He was always paranoid that he would be attacked by the fellow prisoners as he was a serial rapist. Prisoners treat rapists in a peculiar manner. They are vulnerable to attacks from other criminals. But as he was physically challenged, he wouldn't get beaten up inside the jail premises," the officer added.
The Parappana Agrahara police have registered a case pertaining to the suicide.